Bahamas
Motor Sports
Association
Famous for it's Nassau Speed Weeks in the 1950's and 60's, The Bahamas has a long standing tradition of motorsport.
The Bahamas Motor Sports Association is the world's smallest motorsport National Sporting Authority, (ASN) and is headed by president David McLaughlin, ably assisted by
Susan Schauff, Bahamas resident and Vice-President.
​
The Bahamas is generally perceived to be a glamorous tourist location, but this can mean limited prospects for Bahamian school leavers.
The BMSA seeks to harness the enthusiasm for motorsports to teach multiple life skills, such as leadership, presentation skills, budgeting, mechanics, maths, communication and, naturally, how to drive and race karts.
​
The BMSA is working hard to develop Bahamian grassroots motorsport and aims to field a team at the 2021 FIA Motorsport Games.
​
Edukarting is a five day programme for students aged 10-16, which is taught at school and college campus grounds in Nassau, Bahamas during school holiday periods.
​​
Students learn not only about the skills needed to drive a kart, but also learn the skills needed to run a professional karting team and a business. In addition EduKarting focuses on teaching road safety.
Developed from an idea proposed by David McLaughlin, it was devised and written and has been taught to more than 800 students by instructors Henry Beaudette and Craig Camilleri.
​
Edukarting's goal is to demonstrate to each student that the real key to victory is how you prepare and work as a team off track before the race even begins. Together, everyone achieves more.
The Smallest Motorsport
Association in the World
Any list will be incomplete and as EduKarting has as it's mantra T.E.A.M. - Together Everyone Achieves More - we should include others who have made a great contribution:-

Craig 'Cam' Camilleri who has worked tirelessly to pass on his skill and knowledge of Karting to the youngsters. Victoria Sarne for support in the early days. Keith Sands of Rotary who has helped with so many introductions. Niels Jensen who made a great contribution when it was most needed. Sean McWeeney, Katherine Solomon, Christian Knowles and Paolo Garzaroli for their support. Commodore Bethel and Lt Duncombe of Royal Bahamas Defence Force. Larry Phillips for stowing our Karts. Valerie Lightbourne from Doris Johnson High School. Dr 'Bob' Robertson and Mr Alexander Darville from BTVI. David Cleare, plus Jeremy Barker of CARS for getting the original shipment of Karts safely to Nassau, Mechanics Richie and Ricardo who worked over and beyond the call of duty. Photographer Adrian Johnson and from the FIA Kate Robson who has given so much help and guidance.
About the Team
David McLaughlin
---
Founder, EduKarting Bahamas President, Bahamas Motor Sports Association
David has been a lifelong motorsport enthusiast, starting with road rallying in a Mini Cooper S, racing a Lotus 30 and Lola T70 and eventually owning and driving such iconic Formula 1 cars as Williams FW07, McLaren M23, Lotus 49 and his favourite, Ronnie Peterson's Lotus 72.
Although a graduate Mechanical Engineer from Leeds University, he always preferred the commercial world and following a career as a commodity broker eventually turned his hobby into a business by organising Formula 1 races and demonstrations with his wife, Lorina, under the Formula One Race Cars, FORCE banner.
Persuaded in 2009 to visit The Bahamas, he soon recognized the potential for recreating the Nassau Speed Weeks of the '60s and as Chairman led his team to run three very successful Bahamas Speed Week Revivals. From this grew an ambition to put something back into the sport he loved and so he created EduKarting, which has seen nearly 1000 young Bahamians learn to drive Karts and obtain other life skills.
David established the Bahamas Motor Sports Association as the National Sporting Association affiliated to the FIA alongside 149 other countries. His ambition is to take a team of Bahamian youngsters to the FIA Motorsport Games in France.
---
Carol Mason
---
Project Manager, EduKarting Bahamas
Like many young enthusiasts, Carol started her motorsport career in karts, progressing from there to off-road events, rallying and finally to circuit racing, eventually forging a career out of the sport she loves.
A born organiser, with a commercial background and a real passion for motorsport, Carol's broad-ranging experience led her to become heavily involved in both the organisation and operation of all three editions of the Bahamas Speedweek Revival and subsequently in EduKarting.
Using her contacts, she travelled the UK convincing people of the project's validity and persuading them to donate anything remotely karting-related to a good cause. The resulting container full of assorted karts, odd chassis, parts, clothing and equipment shipped to the Bahamas then enabled the fledging EduKarting to get off the ground.
Witnessing the effectiveness of the project over the ensuing five years and how the Academy had developed to include STEM and Road Safety education, Carol was delighted to become formally involved once again in order to help some of EduKarting's star pupils emerge onto the world motorsport stage. However, having to start again from scratch, thanks to Hurricane Dorian obliterating absolutely everything the project owned, wasn't exactly in the original plan! Nevertheless, shesubscribes to the theory that easy only comes to those who don't achieve anything and has always thrived on a challenge.
---
Henry Beaudette
---
Chief Instructor, EduKarting Henry competed in MSA Karting racing from 2002 to 2008 at club and national level and represented Wales in the ABkC Internations in 2005 and 2006. He also competed in the Le Mans 24 Hour Kart Race in 2004 and 2008.
In 2005 he began to commentate on the BRDC Stars of Tomorrow Championship, which became Formula Kart Stars and he has also commentated for Super One, the IAME Euro Series and the CIKFIA World Karting Championship. He also presented Motors TV's coverage of the 2014 British GT Championship.
He currently commentates for the Motorsport UK British Kart Championships, the Rotax Max Challenge Grand Finals, and the Central European Rotax Max Challenge and selected other events including the Kartmasters British Kart Grand Prix.
During his commentary career he has been lucky enough to watch an entire generation of karting talent rise through the ranks including current Grand Prix drivers Alex Albon, George Russell and Lando Norris.
---
Susan Schauff
---
Vice-President, Bahamas Motor Sports Association Susan Schauff grew up in a family company producing the Schauff bicycle so always had a passion for racing. At the Speed Week Revival she and her son Wilfried met the visiting UK Karters and in particular Reece Wade which initiated her interest in karting and the potential for young people in the Bahamas.

Susan is a long term resident of Bahamas and after meeting David McLaughlin a friendship evolved over the years of EduKarting and along with Road Safety enabled Susan to continue her philanthropic work which is an essential component of her life helping the disadvantaged youngsters of The Bahamas

Susan makes good use of her Masters Degree in Economics & Business Administration not only to be the foundation of the EduKarting Programme but also to impart her knowledge by teaching Marketing and Road Safety to the young people many of whom have benefited and realised they can have greater ambitions. Susan is looking forward to the latest plan to leap forward bringing Bahamian Kids to the FIA Motorsport Games.
---
Diane Phillips
---
Diane Phillips is the founder of an award-winning public relations agency in The Bahamas with a dedication to community service that has helped boost many environmental and nation-building causes. An editor, historic preservationist and marine environment protectionist, Phillips is also a recognized radio voice. As the first executive director of two private sector tourism boards that impacted the heart of Nassau, she was considered the mother of Sunday shopping and co-authored several pieces of tourism-related legislation. Ask her what she does and she will say simply, "I'm a writer lucky enough to live in The Bahamas and on some days watch the sun rise along Montague Foreshore." She will probably not reveal that she believes its redevelopment her most lasting legacy. She will admit to helping steer that redevelopment on behalf of the then-Member of Parliament, Loretta Butler, while retaining her inalienable right to! When David McLaughlin first visited The Bahamas in 2009 to discuss a Speed Week Revival, the first person he met was Diane and they have been good friends ever since. David, quite rightly, claims he could never have achieved what he has without Diane's contacts and guidance.
---
Karen Mortimer
---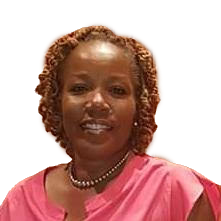 Karen Mortimer is a Traffic Control and Safety Officer at The Road Traffic Department in New Providence, The Bahamas, where she is primarily responsible for road safety matters. She graduated from the University of the West Indies with a Bachelor of Science Degree in Tourism Management. She also studied Road Safety at The Transportation Research Laboratory in England and represented The Bahamas in several Road Safety Workshops in the Caribbean and Peru. Before joining the Road Traffic Department she was a member of the Royal Bahamas Defence Force.
---
Amari Bethel
---
Amari Bethel is a young and enthusiastic Associate at Diane Phillips and Associates.
As a Communication Studies graduate and former marketing intern, locally and internationally, she has gained an appreciation for strategic planning and content creation. As the social media coordinator at DPA she works tirelessly to fulfill day to day requirements while striving to exceed her clients expectations. Amari has a heart for service and philanthropy which have echoed throughout her entire life. She has shown her commitment throughout several organizations as a Vice Chair for the Student Philanthropy Council at her university, to her leadership in the Human Environment Animal Team (H.E.A.T.), to her role as the Service and Sisterhood Chairs in her sorority to her current role as a volunteer soccer coach at IM Bears Soccer Club. While creating content for Southwestern University she acknowledges that it made a huge imprint in her personal portfolio. "My work with the Student Philanthropy Council for 4 years was very valuable. Not only did I create fundraising content for this group, but I was able to inspire others in the process and see the greater impact. At my graduation I spoke on behalf of the group, announcing that we raised $143,783.90 for the Class of 2019 Scholarship Fund, which was historical for the university. As an endowed scholarship this would allow a future student's tuition to be paid for. It was truly a humbling experience to see this come into play." As a former marketing intern, Bahamas National Soccer team player and NCAA Division III athlete, Amari has made it clear that she values the importance of teamwork. Whether it be on the soccer field, in the office, or her local community she believes that it takes a strong network to diligently and effectively plan for a project. Although she is new to karting she plans to implement the same mindset and work ethic to the Edukarting program. She is excited to work with her new team.
---
Dr. Karen St. Cyr
---
Dr. Karen St. Cyr has served the Education System of The Bahamas for 38 years in many multi-dimensional capacities. This veteran educator's work experience included Senior Lead Policy Advisor to the Minister of Education; Curriculum Officer; Coordinator of Regional and International Projects; and Education Programme Director. Dr. St. Cyr is also recognized as a strong proponent for advancing Science, Technology and Innovation (STI); Science, Technology, Engineering and Mathematics (STEM) and Environmental Education.
Dr. St. Cyr was Officer in Charge of the Project Management Unit of the Ministry of Education. And served as Project Manager for the 12 million dollar Inter-American Development Bank (IDB) INSPIRE Project. INSPIRE benefitted, on an annual basis, approximately 38,000 secondary and post-secondary students, 12,000 preschoolers, as well as several thousand students with special needs. Karen St. Cyr is a Pastor at Trinity City of Praise.
Karen St. Cyr is a former Co-Lecturer at the University of Massachusetts and a former Science Lecturer at the College of The Bahamas. Dr. St. Cyr is a mentor to numerous persons, predominantly youth and women. Her purpose is reflected in her vision and mission:-
Vision: Equip and support persons for leadership, economic empowerment and ownership
Mission: Create programs that develop people and empower them to have a global mindset, to lead and to excel academically, spiritually and economically as they build the nation.
Dr. Karen St. Cyr received her Bachelor of Science Degree in Education from the University of Miami, her Master of Arts Degree in Curriculum and Instruction from the University of St. Thomas in Minnesota and her Doctorate Degree in Teacher Education and School Improvement from the University of Massachusetts in Amherst.
Dr St Cyr became involved with Edukarting from the very beginning and as well as providing guidance through the Education System has contributed immensely with her strength and personality in ensuring the Project is maintained to this day.
---
---